Sunday 07 July 2024
Icebreaker Evening: "Diamonds and Ice"
12 IKC's Icebreaker welcomes you to Yellowknife, one of the main gateways to the Canadian North, to start the celebration of 30 Years of Diamonds in Canada! In Canada, diamonds are intimately associated with ice. All Canada's diamond mines are located in the vast, often remote, barren lands of subarctic Canada from the Northwest Territories to the province of Quebec. Innumerable lakes and streams freeze during the long winters allowing access to discover, and later build and operate diamond mines. Diamonds are also called "ice" because they are both clear colourless ice-like crystals and feel ice-cold to the touch because they are at a lower temperature than our bodies and conduct heat away from warm skin.
If you've never visited the Canadian North in the winter, now you don't have to! 12 IKC's opening event will provide attendees the chance to experience a Yellowknife winter without donning a parka and braving the icy cold. Traditionally a night to catch up with old friends and make new ones, this evening will feature local cuisine amidst winter-inspired décor including territorial wildlife and igloos! The winter wonderland will be held in a marquee in the Somba K'e Civic Plaza on the shores of beautiful Frame Lake. The Icebreaker venue is conveniently located in downtown Yellowknife, within walking distance of the conference venues and hotels.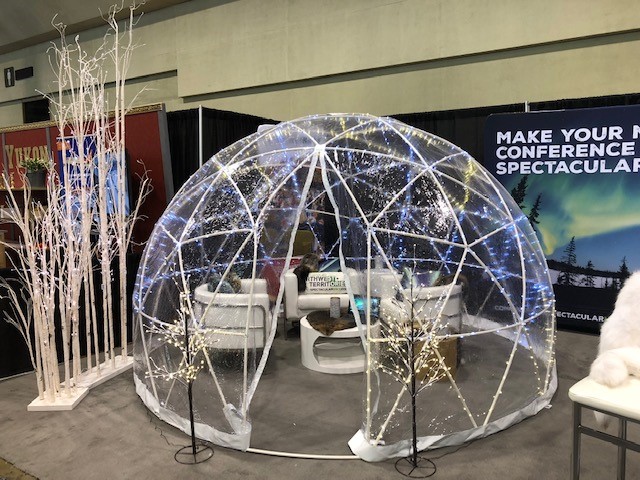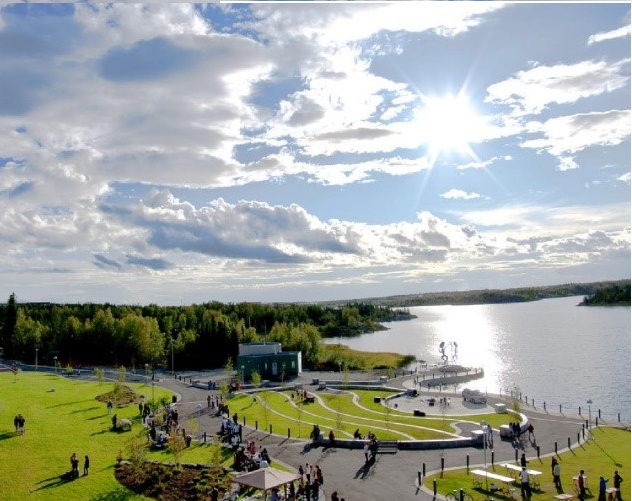 Friday 12 July 2024
Farewell Dinner: "Bush Flying Bash"
To conclude our celebrations of 30 years of Diamonds in Canada, we acknowledge the key role of bush flying in the exploration for diamonds, especially in the adverse conditions of the Canadian North. The first real use of bush flying was in 1919, more than one hundred years ago and it transformed the North. This vast region's innumerable lakes and rivers provided landing areas for water-based aircraft in summer and ski-equipped aircraft in winter, which in turn allowed the extensive use of helicopters. The Farewell Dinner will be held in a hangar at the Yellowknife Airport, courtesy of Acasta Heliflight, one of the companies providing specialized services to the diamond industry. In this venue attendees will feel like true Northern Canadian aviators.
Guests will enjoy a sit-down dinner with a few speeches and awards; entertainment and dancing are also on the menu. Many lasting memories will be created, and new stories will undoubtedly be written as attendees bid au revoir to 12 IKC having also celebrated 50 Years of International Kimberlite Conferences.

Poster Sessions Bar
All posters will be on display for the entire week of the conference (Monday to Friday noon) with dedicated poster sessions Monday, Tuesday and Thursday from approximately 4pm. All posters must fit a vertical poster board with the dimensions 8 feet tall by 4 feet wide. Poster presenters are free to utilise all available space on the board as they see fit.