Travel Information
As the gateway to the North, Yellowknife offers a number of options for travel from within Canada and around the world. The main access to Yellowknife is by air, with secondary access via an all-weather road which connects the Northwest Territories to the province of Alberta.
By Air
The Yellowknife airport is a full-service, customer-friendly facility that supports commercial, corporate and general aviation. Handling hundreds of flights each month the airport is the hub for connecting flights to and from southern Canada and flights from the many small NWT communities.
A number of large scale airlines are flying into Yellowknife from Edmonton, Calgary and Vancouver, including WestJet and Air Canada. There are also direct flights from Whitehorse and Ottawa through Air North.
Canadian North offers direct service from many communities throughout NWT and Nunavut, including Norman Wells, Fort Simpson, Kugluktuk, Hay River, Rankin Inlet, as well as Edmonton, Alberta.
A Brand New Fast Route to the North Launches 8 June 2023!
Canadian North is starting a new one-day express flights that will connect  Yellowknife with Edmonton and Calgary with no overnight layovers. To find out more visit Canadian North.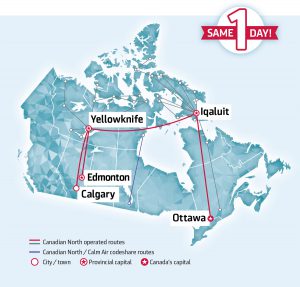 By Land
From Edmonton, Alberta, it's a 16-hour drive north along the Frontier Trail, Mackenzie Highway and Yellowknife Highway through 1,500 km of forest and wilderness. As you travel northward, there may be opportunities to spot bears, bison and other wildlife along the road corridor, particularly in the more remote northern regions. 
For up-to-date information on road conditions, visit GNWT Transportation.